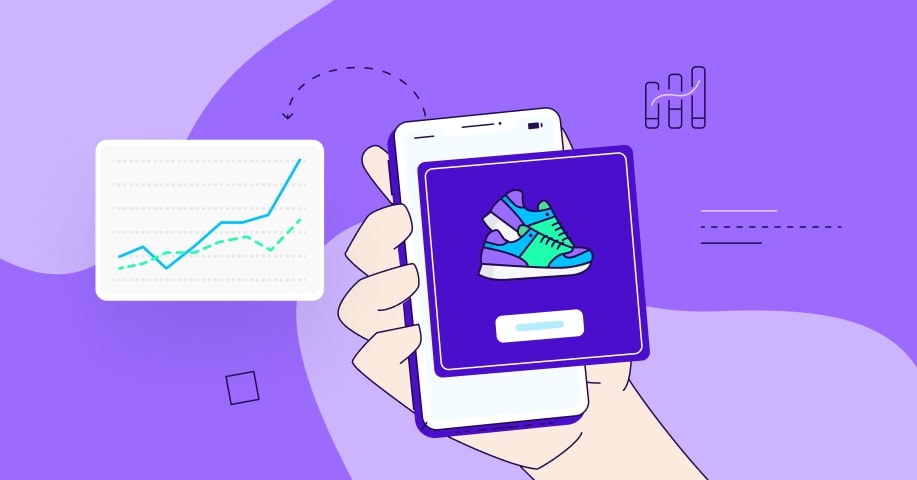 Tip 1: In-App Ads & Free Mobile Apps
This business model is attractive to users as they can download your app free of charge, and you can make money selling data-driven advertising space.
How does in-app advertising work in mobile apps that are free?
You collect information about users
Once you have built a solid user base, you are able to sell your data to in-app advertising platforms
Publishers choose your application to place their ads
Users will see small popups or banners with ads. Ads are usually located at the top and bottom of an app. The user can tap the ad to see a video or redirect to the advertiser's site. In-app ads for social media apps such as Instagram and Tik Tok usually use video placements. Notification ads are another interesting type of ad. They are sometimes called "Trojan horse advertisements" as they can send push notifications to your phone even when the app's not in use. You can use notification ads to help you think about how to monetize your Android app. They are not supported on other platforms. Learn more: How much does an app cost? However, there are some drawbacks to monetizing free apps. Some users find advertisements irritating and choose not to download or use the app that has ads. You should also consider that ads may reduce the screen space in your app.
Tip 2: In-App Purchases
This Tip allows you to sell virtual or physical products or services through the app. It doesn't really matter what you are selling. You can sell clothing, accessories, gadgets or virtual goods like extra lives or in-game currencies. Your app can be used to make in-app purchases that turn it into a new sales channel. This method of mobile app monetisation works especially well for ecommerce apps and games. You can purchase a bonus, or an ability to skip a level that is driving you crazy. In-app purchases have the added benefit of allowing users to purchase virtual goods. This allows for deeper engagement. This model comes with some drawbacks. App stores often take a cut of revenue from virtual goods bought within an app. You can use the app to purchase songs or games.
Tip 3: Apps that offer Gated Features (Freemium).
This model is somewhat similar to the free apps model. Although the app is free, some features are restricted (gated). These features can be unlocked or paid for. This means that users get access to the app's basic functionality free of charge, but premium paid mobile apps features are available at a cost. This Freemium model works best for games. This Tip is a great example of how a brand can generate significant revenue. For a small fee, users could upgrade to the full game. This model allowed the company to attract a large number of users. Users became more engaged after completing a few levels.
Tip 4 – Paid Apps
Each app download can be assigned a fixed price. Pricing for mobile app development will vary depending on the functionality of your app. However, you will need to be honest about the price of your app. The app must be compelling enough to make users download it. This will require more marketing. You use the paid app model if you have a set price for your app. To install your app on his device, the user must purchase it from the app store. Paid apps can be more expensive, but they usually start at $0.99. This is the most popular price because it allows brands to make money upfront from every user. Your ability to show the value your app provides is key to the success of a paid application. Because app stores are overcrowded, it is difficult to sell apps. Users can easily find free alternatives to your app. Your paid app must have distinct advantages that distinguish it from other free apps. Your app should have unique features that are either design, functionality, or branding.
Tip 5: Subscribe (Paywalls).
This model is very similar to the freemium model. It makes money by limiting the user's access to certain features instead of locking them. A limited number of content is available for free to the user. The user must sign up for a subscription to view more content. This model is best suited to content-focused apps such as news, lifestyle, or entertainment. It allows you to generate revenue on a regular basis. Advertisements placed by other brands inside apps can help them earn money. Apps that update content can also make money. To estimate your app's revenue, use an app revenue calculator.